Ellen Schmidt Gentle Hands
1. Runaway Train (3:15)
2. The Winter Game (4:00)
3. Don't Come to Me (4:54)
4. A Couple in a Photograph (3:37)
5. Deed I Do (4:00)
6. Wishing (4:09)
7. Love Spread Your Wings (4:15)
8. Gentle Hands (5:33)
9. Workout Blues (4:07)
10. Take It with You When You Go (2:30)
11. The Father in the Boy (4:57)
12. On a Rainy Afternoon with You (3:50)
13. I See the Love in Your Eyes (5:30)
Vocals:
Seth Connelly: Accordion,Acoustic and Electric Bass and Guitar,Banjo, Mandola, Mandolin, Percussion, Piano,Ukulele,Vocals,Arrangements
Accompanied by:
Perry Desmond-Davies: Vocals
Patrick Gallagher: Harmonica, Vocals
Al Gould: Fiddle, Viola
Peggy Heath Ogilvy: Cello
Jake Kensinger: Vocals
Russell Lane: Drums
Billy Novick: Clarinet & Saxes, Horn Arrangements on "Workout Blues", Vocals
Steve Sadler: Dobro, Electric Guitar, Vocals
Wendy Santis: Vocals
Bernadette Wiemer: Vocals
Produced and Engineered by Seth Connelly at Humming Lake Studio, Brookline, N.H.
Mastering by Henk Kooistra at 9West Mastering, Marlborough, MA
All Songs Written by Ellen Schmidt ©1990 - 1998
except "Don't Come to Me", lyrics by Ellen Schmidt, music by Seth Connelly and Ellen Schmidt 1999
Photos by:
Peter Santis:Sophie, Ceci, and Jessica Santis - my granddaughters
A Friend: Sue Connelly & Seth Connelly
A Loving Family Member: Allan and Ellen Schmidt
Special Thanks to
Al, Billy, Steve, Patrick, Bernadette, Peggy, Russell,Wendy, Perry, and Jake who has been my music partner for nine years; Robert Wheeler, who so kindly loaned his ukulele; Steve Rapson, who still encourages me to keep writing and performing; Steve Friedman who continues to give me studio experience and good advice; Don White who has helped me to be a more giving performer; Les Sampou who has shared her music business savvy with me; my family who have loyally supported me - especially my husband Allan who keeps me going every day, always with a smile; all my friends that I've met through life, teaching, and music - thank you all.
To Seth and Sue
You both continue believe in my music and you are such wonderful friends. Seth, you honor my songs with your magnificent arrangements. This journey with you both is still profoundly spiritual. Thank you!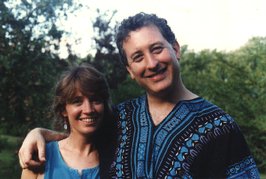 Seth would like to welcome Russell Lane, Peggy Heath Ogilvy and Steve Sadler into the musical family (don't worry, no holiday greeting card required) and to thank Bernadette for her lovely voice. Thanks as well to Joe B. at Fishman Transducers for keeping me in acoustic rocket fuel, the Plante family for support and instruments, and love to Sue - behind any good man there's usually an extraordinary woman, and to God for all Her blessings.
Correspondence: Ellen F. Schmidt, 199 Cambridge Tpke., Concord, MA 01742
phone: 978-369-8090, email: eschmidt01742@gmail.com
© 1999-2010 Ellen F. Schmidt